Mr. Slick Dick Obama is starting to collapse, his lack of experience and the closets littering his closet see voters having Buyers Remorse as he slides in National Polls, Hillary Clinton now the preferred choice nationwide in the latest overnight polls. It is time for the people of Pennsylvania to send this PRETENDER packing by handing Hillary Rodham Clinton a decisive win in Tuesday Primary vote. His deplorable performance in this weeks debate, his whining after the fact show us he IS NOT THE RIGHT STUFF, is not seasoned enough to hold back the Republican Party machine in the fall election. Further, his refusal or great reluctance to have additional debates shows he is HIGH YELLOW, a chicken of the highest degree.
April 19, 2008
Gallup Daily: Clinton 46%, Obama 45%
General election races remain tight
PRINCETON, NJ -- Gallup Poll Daily tracking shows that Hillary Clinton now receives 46% of the support of Democrats nationally, compared to 45% for Barack Obama, marking the first time Obama has not led in Gallup's daily tracking since March 18-20.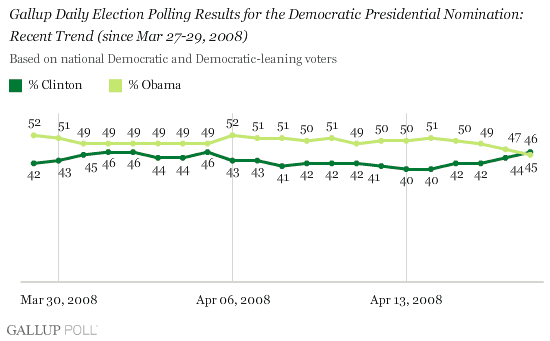 These results are based on interviewing conducted April 16-18, including two days of interviewing after the contentious Wednesday night debate in Philadelphia and the media focus that followed.
Obama Tries to Hold Off Favored Clinton in Pa.

Sunday, April 20, 2008; Page A13
PHILADELPHIA, Apr. 19 -- Sen. Barack Obama launched an array of attacks in the final weekend before the Pennsylvania primary, hoping to regain momentum and increase pressure on Sen. Hillary Rodham Clinton to drop out of the race for the Democratic presidential nomination.